Hurricane Season is Released!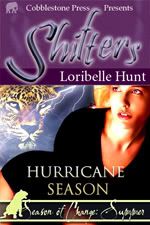 When his mate died, Quinn, the oldest Lassiter brother left home and became a park ranger in the Florida Panhandle. The distance and solitude suit him. After all, the less you care the less you hurt.
With a hurricane bearing down on the coast, his job is to secure and evacuate the park. As the storm worsens to a point where evacuation is no longer possible, he discovers Celeste injured and unconscious. The problem is Celeste died years ago. They take shelter from the storm to unravel the betrayal that split them apart, but first have to face the danger stalking Celeste.
Buy Here!